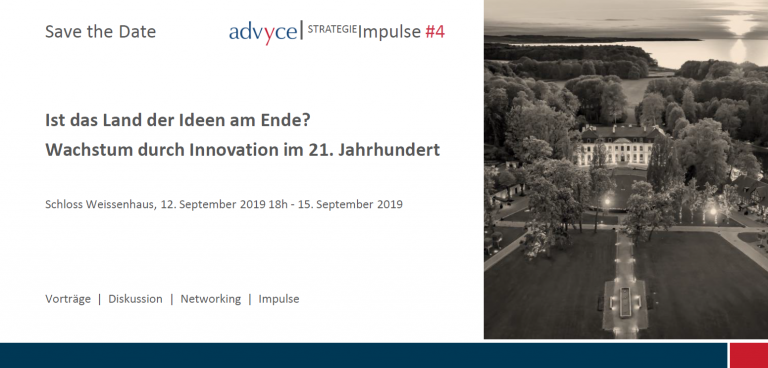 The ADVYCE strategy impulses will take place for the fourth time in a row from September 12th – 15th 2019. We are already looking forward to the largest ADVYCE impulse event of the year, to which we are inviting you exclusively at Schloss Weissenhaus at the Baltic Sea.
This year´s topic will be: "Is the land of ideas coming to an end? How can growth through innovation be achieved in the 21st century?"
The German economy is undergoing dynamic and increasingly global change. Europe's role and the leading economic position of Germany are in danger. What opportunities for growth do companies have in this world of upheaval, which innovation is necessary in order to survive against US Internet giants, aggressively buying Chinese and emerging economies?
Germany's role as a leading export nation is based on its ability to develop marketable products from innovations. However, significant social innovations are no longer originating in Germany. In recent decades, the USA and China have understood much better how to take advantage of innovations and thus create social prosperity How can pathways look like to break out of this threatening development? Are there any examples in Germany and what are the success patterns?
As in previous years, we want to provide cause for thought and inspire through impulses. ADVYCE will once again draw on the support of outstanding speakers from science and practice to create the framework for an intensive exchange of experience between participants and speakers.